Does the office you are working inspiring and pleasing to you and your employees? Does it motivate them to be more innovative, creative, and productive? Is it a place that generates workplace productivity? A survey has done that cites how effective it is of an employee working in a tidy and pleasant workspace. Not surprisingly, a well-considered workspace drives the employees' creativity, innovativeness, and of course, his performance. The goal of designing a space is to enable employees to perform their daily work routines or as it requires for their job and leave room for creative inspiration. In this article, you will read about how to structure and design the workplace and cultivate creative innovation in the company.
Allow collaboration and focus by delineating spaces in the workplace. Instead of having an open space floor plan, experts say, consider to have a separate space between individual and collaborative work. According to the survey, it reports that it is found that companies who are innovative are five times more likely to have workspaces that prioritize both individual and group or peer workspaces. It is very important to provide both private offices and workstations that are visually and acoustically separated from larger spaces that facilitate group work.
Spaces that are dedicated to only one user could have an effect on enforcing the workgroup to be creative and innovative because it might be a routine to them or maybe it will make them locked-in workgroups. A rigid, unchanging environment might or it would really be a stagnant feeling for the employees. Always look for multiple uses and functions of a certain or particular workspace; you might want to make the dining area as an ad hoc meeting room or the photocopy center might also have a coffee machine or mineral water dispenser, just things like that. This approach or this style can often reduce the need for space, thus, it could also have an effect on financing the building or office.
Visual stimulus is a sure-fire way to enhance creative and innovative thinking, once said. The company might want to bring in some splashes of bold and bright colors in the workspace or maybe put on some interesting art on the walls and sculptures in the hallway. And maybe because of this, employees might be encouraged and motivated more to their job or also be inspired to customize their own workspaces.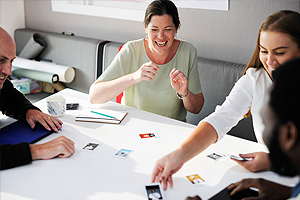 Always keep in mind that a negative environment– may it be physical or emotional, will really have a significant distraction from creative thinking and employee productivity. Good workplace relationships and a positive and pleasant work environment are critical for a successful business, as an unhappy staff or employee have a negative impact on creativity, innovativeness, and of course, the productivity and customer service. So encourage your staff and employees to add an extra cushion to their workplace may it be a plant or a personal picture, it will help them get into success.